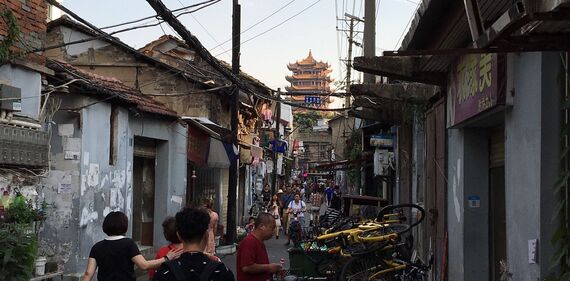 Scholars Across Asia Discuss Neighborhood Culture
On June 10th, 2020, the Georgetown Global Cities Initiative in partnership with Ateneo de Manila University hosted a research symposium under the auspices of the Asian Cities and Urban Settlers project. This research symposium convened scholars whose research explores the culture of informal communities all over Asia.
A product of a unique collaboration of faculty and graduate students at several institutions in the US and Asia, the workshop was co-chaired by Prof. Jordan Sand of Georgetown's History Department and Prof. Michael D. Pante of the Department of History, Ateneo de Manila University. The project aims to explore new methods in ethnography and oral history to elucidate the formation and growth of these rapidly changing areas from the perspective of their occupants.  This seminar is part of an ongoing collaboration among historians, anthropologists, urban planners and urbanists to learn directly from the experience of people in spontaneously built settlements. 
The virtual workshop brought together leading scholars and activists from cities across Asia to present their work on informal settlements and marginalized communities in several cities, including Yangon, Yogyakarta, Ho Chi Minh City, Singapore, Wuhan, Manila, and Tokyo.  Subject matter included neighborhood-based responses to Covid-19, the cultural dimensions of neighborhood relocation initiatives, localized evolution of social norms and legal frameworks and collective consciousness at the local community scale.  
To view a video recording of the final day of presentations, click here and here. 
To view the symposium agenda, please click here.
For more background on the Asian Cities and Urban Settlers project, please see here.
The Georgetown Global Cities Initiative is grateful to the following scholars for participating in the Asian Cities Urban Settlers forum:
Kengo Hayashi is associate professor at the Institute of Industrial Science, University of Tokyo. He earned his MA and PhD in Urban and Architectural History from the University of Tokyo. He was formerly a sub-leader of the research project "Megacities and the Global Environment" at the Research Institute for Humanity and Nature (RIHN). His research interests include urbanization in Southeast Asia, especially Indonesia. He has conducted research on historical informal settlements, Kampung Satu Abad (One Hundred Years' Kampung), in Jakarta Metropolitan region. At the same time, he has been working on the development of a City Sustainability Index (CSI), which evaluates and compares the performance of different cities in terms of global sustainability.
Erik Harms is associate professor of anthropology and Chair of the Council on Southeast Asian Studies at Yale University. He is a social-cultural anthropologist specializing in Southeast Asia and Vietnam. His ethnographic research in Vietnam has focused on the social and cultural effects of rapid urbanization on the fringes of Saigon/Ho Chi Minh City. His first book, Saigon's Edge: On the Margins of Ho Chi Minh City (University of Minnesota Press, 2011), develops the concept of "social edginess" and explores how the production of symbolic and material space intersects with Vietnamese concepts of social space, rural-urban relations, and notions of "inside" and "outside."  His second book, Luxury and Rubble: Civility and Dispossession in the New Saigon (University of California Press, 2016) is a study of luxury housing and mass eviction in Ho Chi Minh City. As a whole, professor Harms' ethnographic research has worked to show how the study of social space can reveal unspoken relationships of power and ideology in post reform-era Vietnamese cities.
Kah Seng Loh is a historian of Singapore and an Honorary Research Fellow at the University of Western Australia. He is interested in all things that happened in the history of a city. He is the author of the award-nominated Squatters into Citizens: The 1961 Bukit Ho Swee Fire and the Making of Modern Singapore (NUS Press 2013) and Tuberculosis – The Singapore Experience, 1867-2018: Disease, Society and the State (with Hsu Li Yang, Routledge 2020). He runs Chronicles Research and Education, a research consultancy on the rich and varied heritages of Singapore – housing, industrial, medical, and culinary. 
Mori Mayumi is a writer and oral historian based in Tokyo. She is the author of over seventy books, including essays and fiction as well as archival and oral histories. In 1984, together with two friends, she founded the local magazine Yanesen in the adjacent districts of Yanaka, Nezu, and Sendagi in central Tokyo, an area that survived the Great Kanto Earthquake of 1923 and the firebombing of 1945. Through the practice of unearthing the history of the area and transforming their memories into a collective historical record, residents developed new pride in their neighborhood. Yanesen ended its print run in 2009, but under the nickname "Yanesen" the area has become well known, with visitors from all over the country and around the world. Yanesen's alleyways, cats, small shops, handicrafts and friendly neighbors have made it popular. Now the issue is how to protect the neighborhood for its long-time residents. Mori is presently in the process of creating a public digital archive of thirty years of oral histories in Yanesen.
Uji Nugroho Winardi is a historian by training and a lecturer in the History Department of Universitas Gadjah Mada Yogyakarta-Indonesia. He earned an MA from Leiden University. His research focuses on the colonial history of Indonesia. He is a former member of the heritage expert commission in Yogyakarta (2013-2019), and team member of the Living Museum of Kota Gede (2019). He is a co-author of several publications about Yogyakarta, such as Gelora di Tanah Raja (Revolt in the land of principalities, 2017), Pemilu Pertama di Yogyakarta (The first election in Yogyakarta, 2018), and is currently working on the Historical Atlas of the Kingdom of Mataram. His work employs archives and GIS mapping, as well as oral history. He has been working on several community service projects and documentary movies aiming to voice local narratives. In 2017, he met Jordan Sand, who introduced him to the informal settlements dynamic. He is keen to make sense of the history of Yogyakarta by exploring the periphery of the city. 
Michael D. Pante is assistant professor in the Department of History, Ateneo de Manila University, and associate editor of Philippine Studies: Historical and Ethnographic Viewpoints. His research interests include urban history, specifically transport motorization, informal settlements, natural disasters, and suburbanization. He has published articles on these topics in various journals. He is the author of A Capital City at the Margins: Quezon City and Urbanization in the Twentieth-Century Philippines (Ateneo de Manila University Press; Kyoto University Press, 2019).
Jayde Lin Roberts is a senior lecturer in the Faculty of Built Environment at UNSW Sydney and an interdisciplinary scholar of Urban Studies and Southeast Asian Studies. Her research in Myanmar focuses on informal urbanism, heritage-making, and the effects of transnational networks. During her 2016-2018 Fulbright US Scholar term, she worked with Myanmar's universities and municipal departments to investigate discourses of urban development in Yangon. Her book, Mapping Chinese Rangoon: Place and Nation among the Sino-Burmese, was published by the University of Washington Press in June 2016.
Jordan Sand is Professor of Japanese History at Georgetown University. He holds a masters degree in architecture history from the University of Tokyo and a doctorate in history from Columbia University. He is the author of House and Home in Modern Japan (Harvard University Press, 2004), Tokyo Vernacular: Common Spaces, Local Histories, Found Objects (University of California Press, 2013) and 帝国日本の生活空間 (Living Spaces of Imperial Japan; Iwanami shoten, 2015), and writes widely on urbanism in Asia. While a student in Tokyo in the 1980s, he met Mori Mayumi and became involved in her work to document the life of old Tokyo neighborhoods through oral history. In 2017, with funding from the SSRC, he visited marginal and spontaneous settlements in cities around Southeast Asia. Inspired by the expert guidance and the work of several members of this group, he and Uwe Brandes launched the Asian Cities and Urban Settlers project.