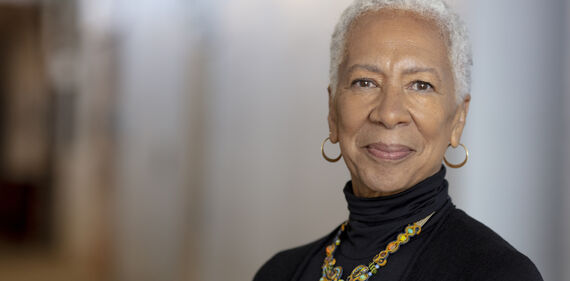 Angela Glover Blackwell Named Visiting Fellow for 2020-21
The Georgetown Global Cities Initiative is honored to announce Angela Glover Blackwell as its third annual visiting fellow.  In-residence at Georgetown University twice during the 2020-21 academic year, Ms. Glover Blackwell will engage faculty, staff and students on the advancement of the initiative. "We are particularly fortunate in having this opportunity to enter into structured dialogue with Angela Glover Blackwell," said GGCI's Faculty Director Uwe Brandes, "her vast experience and insight into the practices advancing community-based social change will help us better imagine how sustainable and just cities can be realized."
Glover Blackwell is a leader and innovator in the policies and practices to improve access and opportunity for all low-income people and communities of color, particularly in the areas of health, housing, transportation, education and infrastructure.  As founder of PolicyLink, she has worked to enable everyone, especially people of color to live in healthy communities of opportunity.  She is the host of Radical Imagination, a podcast exploring social change in communities, cities and society.  She serves as board chair of the Children's Defense Fund. 
A lawyer by training, she gained national recognition as founder of the Oakland (CA) Urban Strategies Council, where she pioneered new approaches to neighborhood revitalization.  In addition to her work at Policy Link, Angela Glover Blackwell served as senior vice president at the Rockefeller Foundation and partner at Public Advocates, a nationally known public interest law firm.   
Glover Blackwell's in-residence activities begin this fall and will extend into the spring semester.  A series of events and engagements are being planned and students and faculty seeking to host Ms. Glover Blackwell should express interest through an email to globalcities[at]georgetown.edu. 
For more background information on Angela Glover Blackwell, please see here.

For more information on previous visiting fellows, please see here and here.