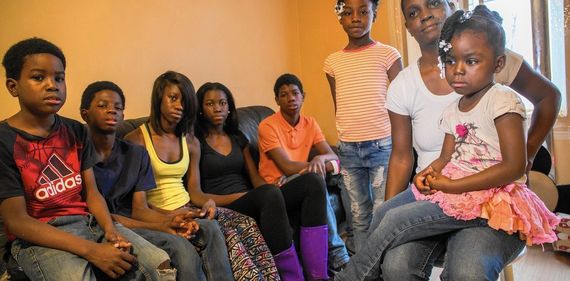 Author: Chrystie Swiney, Doctoral Fellow
How do sociologists take stock of scholarship whose focus is on the study of urban and subsidized housing?  On October 4, 2019, Georgetown Professors Brian McCabe (Sociology) and Eva Rosen (McCourt) co-convened a national research symposium entitled, "The Sociology of Housing."  The symposium brought together leading scholars to present their work, strengthen their research networks, and generate new directions of inquiry for this enriching strand of research. 
Twenty scholars were hand-picked to participate in the one-day symposium, which included Matthew Desmond and Douglas Massey from Princeton University and Stefanie DeLuca of Johns Hopkins University.  Featured panels included moderated presentations and were complimented with a keynote address delivered by DeLuca entitled "Creating Moves to Opportunity: Experimental Evidence on Barriers to Neighborhood Choice."  In her address, DeLuca reflected on sociological interventions designed by Harvard economist Raj Chetty investigating how socio-economic outcomes are associated with a family's change in their residential location.
"Housing Instability" was a theme of dialogue exploring the impact of evictions on communities, and the impact of that insecurity on neighborhoods and households.  This discussion explored the types of housing instability that have emerged in the context of an affordable housing crisis and asked how families adapt and respond to housing instability.
A dedicated panel on "Vouchers and the Search for Housing," investigated housing policies impacting the search for affordable housing.  Speakers examined how racial discrimination interacts with other forms of housing discrimination, including gender and income.  Panelists, including Georgetown faculty Eva Rosen and Brian McCabe, explored case studies on housing discrimination and the role of housing authorities in assisting families in successfully locating housing. 
"Housing Markets and Inequality," sought to unpack the composition of local housing markets and their impact on patterns of social inequality in cities.  Topics included neighborhood characteristics that influence property values, shifting patterns of public and private investments and the evolution of how public and private actors set rent prices and shape demand to live in particular urban neighborhoods.
The symposium concluded with a dialogue exploring "Housing Policy, Poverty and the Politics of Place," which sought to understand how federal and local housing policies shape patterns of urban inequality. Presentations and dialogue explored how housing policies determine whether housing becomes segregated or integrated, stable or precarious. Participating scholars investigated the relationship between sociological research and public policy to more fully explore how sociological insights have informed our understanding about where poverty is located, or what it looks like.
"It was exciting to convene such a group of fantastic scholars doing work on the sociology of housing, and to really have the chance to dig into a set of conversations around the importance of housing and the way it shapes our social world today," said Eva Rosen, co-convener of the symposium.
McCabe noted that he and Rosen expect to publish an edited volume on the Sociology of Housing from the conference, "After seeing the tremendous volume of innovative scholarship on this subfield, we decided that an edited volume would enable us to organize the subfield of housing within broader sociological scholarship."
The symposium was made possible by support from the Georgetown Global Cities Initiative and the Office of the Provost.