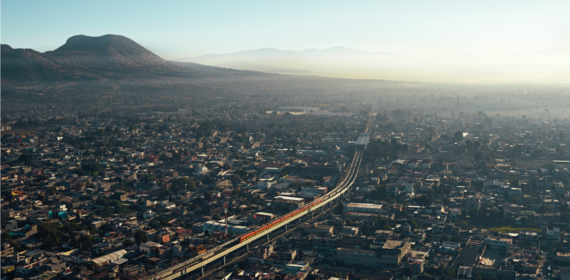 Author: Chrystie Swiney, Doctoral Fellow Global Cities Initiative  
With more than 20 million people in the metro area, an economy larger than the country of Chile, and nearly 700 years of place-based cultural history, contemporary Mexico City is continuously searching for new strategies to overcome complex challenges of systemic poverty, a degraded urban environment, and the inequitable distribution of public resources. As one of the world's first megacities, any new public initiative in Mexico City must scale to the tens of millions. 
In 2012, the then newly elected mayor, Miguel Ángel Mancera (2013 - 2018), pledged a new look at old problems by introducing a new position within his administration: a dedicated director of urban innovation and creative problem-solving. Gabriella Gómez-Mont was appointed Chief Creative Officer, a position from which she then formed the Laboratorio para la Cuidad (the Laboratory for the City) as the primary vehicle to introduce a culture of participatory practices, experimentation and creative change from within the municipal government from 2013 to 2018.  The Georgetown Global Cities Initiative is honored to have her serve as this year's visiting fellow.
Gómez-Mont recently spent a week on campus for her fall residency, meeting with faculty and students.  She is an engaged urban visionary, intellectual, practitioner, journalist, and creative artist all rolled into one.   Her visit was fast-paced and full of engagements: offering lectures, participating in workshops, and entering into many dialogues.
Born and raised in Mexico City, Gómez-Mont built a career working as a journalist, running a foundation, making documentaries about the city and serving as a visiting fellow at Yale University. When offered the position by Mayor Mancera, she first paused. She had no experience working as a civil servant, and she was acutely aware of the strained relationship between Mexico City residents and their government. In fact, a 2017 Pew Poll suggests that very few Mexico City residents retain a belief in the virtues of democracy.  Her love and optimism for Mexico City and all its possibilities outweighed her doubt, and she accepted the opportunity to serve within his administration. 
In the Spring of 2013, Gómez-Mont returned from Yale to assume her position as Chief Creative Officer of Mexico City.  Her first step was to form a team for her newly minted office, Laboratorio para la Ciudad, and to find a location for it to be based.  She found an inspiring space atop a nondescript bureaucratic office building perched on a hilltop overlooking the expansive city, and made the office into their new headquarters.  She hired an interdisciplinary team of social scientists, architects, computer engineers, artists, communication specialists, and activists. Perhaps daringly, almost none of her new hires had any experience whatsoever working for the government. 
This interdisciplinary team became the first government-led public lab in all of Latin America. They were to serve as the experimental policy implementation arm of the municipality - a place where new ideas could be incubated, tried and tweaked; a place where failure was to be expected and accommodated. Laboratorio para la Ciudad became a collaborator to the many city agencies, a place where creative solutions to some of the city's most pressing problems were formed and cultivated.  
It took a year to procure the space and equip her team with computers.  And despite their small budget, a small staff and limited resources, the Laboratorio took on a variety of amazingly complex challenges.  
One of their first projects was documenting Mexico City's expansive, informal micro-bus transit system. Mexico City has a privatized bus system that moves 17 million people across the city each day.  Run by individual vehicle owners, the ad-hoc nature of this transit system means that there are no designated bus routes. In addition to mapping routes to increase efficiency and transparency for the millions of daily riders, the municipality had extremely limited information with which to invest in the system. 
With hundreds of informal routes, the task of mapping the system required a level of time and resources they simply didn't have. To address this challenge, Gómez-Mont and her team turned to what she affectionately describes as "the city's biggest resource" – its citizens.  The Laboratorio para la Ciudad,  in collaboration with a working group from civil society, created a digital game, whereby bus passengers themselves mapped the enormous number of lengthy routes.  Points were awarded for participation and its popularity motivated local businesses to donate certificates and coupons as prizes. Partnering with the community and incentivizing participation was a creative solution to a big challenge. The final map built by the Mexico City citizens is now relied upon by city officials to guide future planning and public investments. 
Laboratorio para la Ciudad was next called on to assist with the project of democratizing the process of drafting the Mexico City constitution, which was foundational to its transition from a federal district to an autonomous city-state.  A twenty-eight member constitutional review committee was appointed by the Mayor to complete the first draft, and the Laboratorio was given the monumental task of ensuring that what went into this new constitution reflected the wishes and needs of Mexico City's 20 million citizens.  
The enormity of this task led to a multi-tiered participatory strategy, and intense collaboration for its different phases with a diverse set of actors: from other city departments to local universities such as IPN, as well as with the likes of MIT and Change.org whereby urban futures, specific ideas, comments, and proposed revisions were crowd-sourced in several ways to create the Mexico City Constitution, one of the first efforts of its kind anywhere in the world. Over a quarter of a million people participated in just the Change.org platform created ex profeso for this, submitting over 300 petitions that in some cases garnered over fifty thousand signatures, which were then presented to the constitution drafting committee for review, as well as the Mayor himself. 
Gómez-Mont is proud to say that 76% of the ideas generated by these digital petitions were incorporated into the final version of the document.  Almost unbelievably, this crowd-sourced constitution was formally adopted in February 2017, about a year after commencing the drafting process. This unprecedented document is one of the most progressive constitutions in the world. It contains rights to euthanasia, abortion, gay marriage, medical marijuana, health care, education, and dignity for the transgender community.  Gomez-Mont's efforts to find innovative ways to incorporate the views of citizens into the Constitution were instrumental in both developing the document and garnering the political support necessary for its adoption. 
Recently on campus, Gómez-Mont was asked if she felt the process of creating the constitution had produced real impacts on the ground and she offered a resounding "yes!" She cited Article 20, which establishes Mexico City as not only a "global city," but a sanctuary city as well.  As a result of Article 20, undocumented immigrants who find themselves in Mexico City are greeted not with law enforcement officers or immigration officials, but with welcoming teams providing medical support, food supplies, housing assistance, childcare and other forms of support, all irrespective of a person's documentation status. "Constitutions are to be aspirational documents meant to convey our highest ideals," stated Gómez-Mont,  "they are critical for guiding policymakers and elected leaders and for shaping the stories and narratives that make life in its jurisdiction unique." 
A final example of the work of Laboratorio para la Ciudad was the effort to map Mexico City's nearly 3 million children to assess the effectiveness of urban planning with a childhood perspective.  Mapping assessed the dimensions of inequitable access to playgrounds and parks through a determination of how many square meters of green space within walking space of each child.  Enormous disparities were documented which found that neighborhoods with the highest concentrations of children have the lowest access to green spaces. The power of this information mobilized support for a new strategy used to close the "green gap" across city neighborhoods. Several abandoned playgrounds were rehabilitated and new programs created to close streets for pedestrian "play streets" or convert empty lots into recreation and cultural spaces through dedicated partnerships. 
Today, Gabriella Gómez-Mont travels the world consulting with cities on how to create innovation offices and in-house government laboratories.  Her leadership is genuine, compassionate, bold, and reflects a commitment to improving city life for all. Her passion is to harness new ideas to ensure that the voices and imaginations of citizens are infused into the transformation of their home city.  Gómez-Mont cites Henri Lefebvre to convey her belief that people shape the cities they inhabit, which in turn shapes them. This passionate belief in the need for individuals to be involved in shaping their own realities and destinies is at the core of what drives her to carry ideas beyond the borders of her own Mexico City.  
Gómez-Mont is the recipient of numerous awards for her groundbreaking work.  The diversity of the awards themselves is an indication of her truly cross-disciplinary and eclectic path.  She has received the Audi Urban Future Award, the Best Art Practice Award given by the Italian government, the TED City 2.0 Prize, among others.  She was recently named one of the 100 most creative people by Fast Company magazine, and in addition to serving as a fellow at both Yale and MIT, she has been a TED Senior Fellow, a fellow for the Institute for the Future, a World Cities Summit Young Leader, and part of an international advisory committee for the Mayor of Seoul on Social Innovation.  
The Georgetown Global Cities Initiative looks forward to welcoming Gabriella back to campus in the spring semester.