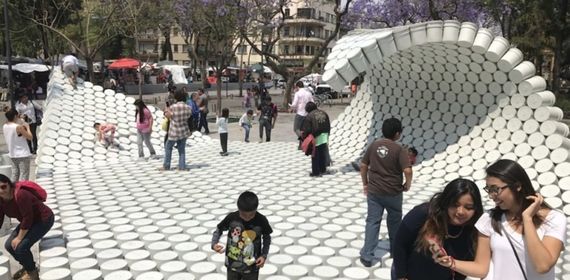 Mexico City in Motion: People, Place & Data
Please join the Georgetown Global Cities Initiative for a special evening with Gabriella Gomez-Mont for an in-depth look into the new forms of participatory citizen engagement and civic innovation in Mexico City.  Gomez-Mont is the former Director of Innovation for the Municipality of Mexico City and the founder of the Laboratorio Para la Cuidad (LabCDMX) or Laboratory for the City.  She is serving as this year's Visiting Fellow of the Georgetown Global Cities Initiative. 
Projects implemented under her leadership span place-based civic place-making initiatives for informal communities to the crowd-sourcing of the newly drafted constitution for the newly formed state of Mexico City, overcoming years of political governance as a federal district. 
In addition to recently serving as a public official, Gomez Mont has worked as a journalist, visual artist, documentary director, and creative advisor to different cities, universities and organizations.  She has received numerous international awards for her work in different fields.  She has been named a Ted Senior Fellow, MIT Director Fellow, Yale World Fellow, Institute for the Future Fellow, and World Cities Summit Young Leader.  In 2016, Fast Company magazine named her one of the 100 most creative people in the world.