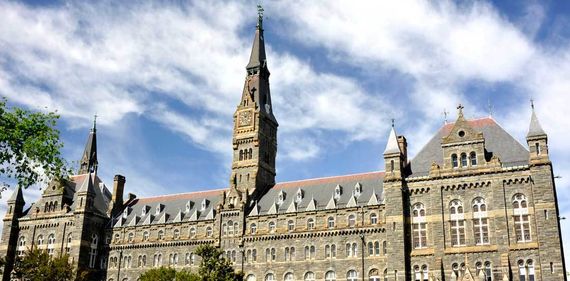 2021-2022: The Year Ahead
The Georgetown Global Cities Initiative (GGCI) is a university-wide dialogue dedicated to creating and sharing inter-disciplinary knowledge of cities, their communities and the opportunities associated with unprecedented global urbanization. We celebrate Georgetown's international networks while embracing critical dialogue on Washington DC, our home city and community. Since its creation in 2016, the GGCI has engaged students, faculty and external partners in the support of advancing research, hosting an open exchange of ideas and engaging special guests and external partners.
In the year ahead, we continue our recent activities with an even stronger emphasis on student engagement.  Here is what we have in store: 
GGCI Student Scholars Program supports students from all schools and at all degree-programs with their urban research ideas and projects. Activities include research mentoring, workshops and professional development activities. The call for applications for this year's cohort of scholars is now open. 
GGCI Dialogues are special events open to all members of the university community and to the general public.  The GGCI Dialogues allow us to bring unique voices together and explore issues from multiple perspectives and disciplines.  We will conduct our first dialogue this Thursday, featuring Prof. Rebecca Katz discussing her recent book exploring urban pandemic preparedness.  This year will also feature a series of dialogues on housing for the working poor which is organized in collaboration with the Kalmanowitz Institute. 
GGCI Student Research Summit provides a venue for undergraduate and graduate students from all schools to present their research on urban topics, receive feedback from outside experts and build a peer network of support. This year's summit will be scheduled on February 25th, 2022.
GGCI Visiting Fellows invites a distinguished guest from outside the university into our dialogue.  We will announce 2021-22 GGCI Visiting Scholar soon.
Georgetown Mayor's Summit explores urban leadership challenges organized in partnership with the Institute for Politics at the McCourt School and with the Project on State and Local Government Policy and Law at the Georgetown Law Center.  
GGCI Faculty Scholarship Support supports individual faculty to advance interdisciplinary research projects.  
We welcome all students and faculty with an interest in cities and urban research to join our community by signing up for our email list at globalcities.georgetown.edu and participating in special events.  To learn more about last year's activities, please see here.