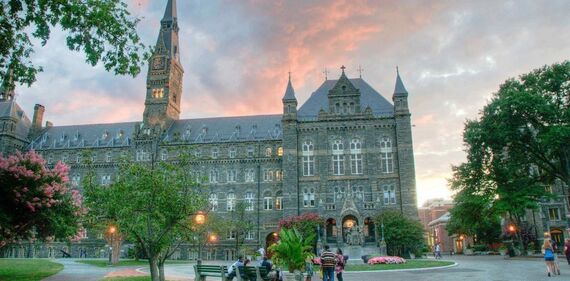 Student Scholars Program 2021-2022: Call for Applicants
The GGCI seeks interested students from all schools and from all degree programs to apply to the year-long Scholars Program.  The Scholars Program is an opportunity for undergraduate and graduate Georgetown students to build relationships across academic disciplines with a focus on urban research.  
The Scholars Program begins in October 2021 and finishes in April 2022.  Scholars are expected to advance their research projects and participate in bi-monthly (one meeting every two months) thematic convenings which are structured around a research question or discussion theme. Additional meetings may be scheduled on a student-driven basis.  Scholars can choose to advance research projects that were originated in or are being conducted for classes or their thesis. While all activities are anticipated to be in-person in Washington, DC, we will seek to best accommodate Georgetown students in other locations and time zones.  
All degree-seeking students at Georgetown are eligible to apply.  Applications include: 
- A Personal Statement explaining your interest in cities and global urbanization. (3000 characters with spaces) 
- A Research Description identifying the research questions and themes that you plan on exploring over the course of the year. (3000 characters with spaces) 
- CV (one page) 
[EXTENDED DEADLINE] Applications are due by 11:59pm ET on September 26, 2021. Apply here.
Frequently Asked Questions: 
Who is eligible? 
The Scholars Program is intentionally interdisciplinary and seeking students across all degree programs, all disciplines and all schools.  All degree-seeking students at Georgetown are eligible. 
How many students will be selected?
We expect to select between 8 and 15 students.
What is the time commitment?
Scholars will meet as a cohort several times during the semester.  The overall engagement has been designed to demand, on average, one hour per week over the course of the year. 
Will I receive compensation?
Students will participate in the program on an ad-honorem basis. Paid research positions and project-based grants may become available to scholars on a competitive basis. 
When are the meetings?
Meetings will be coordinated with the Scholars and will be scheduled in the evenings, during lunch and possibly on occasional weekends.
Will my research be published? 
Scholars will be featured on the Global Cities website and faculty will advise students on their ongoing research and will help identify opportunities to publish in external publications. 
How long does it take to apply? 
The application is not intended to be onerous.  Please submit materials on the basis of your past experience and the goals you have established for yourself this academic year.  
If you have additional questions please reach out to us at globalcities [at] georgetown.edu