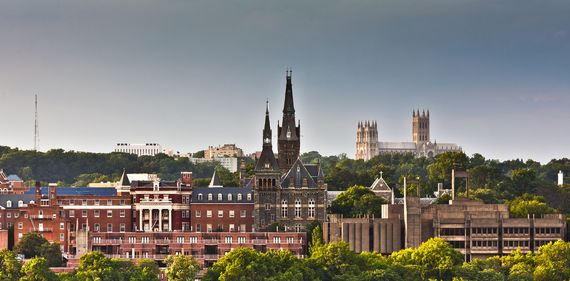 Annual Student Research Summit
When:

April 17th 2020 | 2:00 pm - 6:00 pm

RSVP:

RSVP
THIS EVENT IS CONFIRMED WILL BE CONDUCTED IN A VIRTUAL FORMAT!  TO PARTICIPATE YOU MUST RSVP AND YOU WILL RECEIVE DETAILED INSTRUCTIONS TO JOIN THE DIALOGUE.
Please join us to celebrate recent research by Georgetown students from all schools of the University at both the undergraduate and graduate levels.  Student projects will include any interdisciplinary topic relevant to global cities, global urbanization trends, and the centrality of cities to all our current and future global challenges.  From Washington, D.C. to Warsau and from Doha to Durban; the Georgetown Global Cities Initiative wants to elevate your urban research.
This dynamic and interactive workshop will take place on April 17, 2020 from 2 to 6 pm in the Murray Room, located on the top floor of Georgetown University's Lauinger Library, a room that overlooks the Potomac river and the Washington metropolitan area.  The workshop is designed to bring motivated graduate and undergraduate students together in interactive dialogue.  Following introductions, students will present their work to Georgetown Global Cities Initiative Visiting Fellow, Gabriella Gomez-Mont and select outside guests.
The summit will end with a networking reception with food and refreshments at 5pm, where students can get to know one another better, discuss their current and future projects, and engage with Visiting Fellow Gabriela Gomez-Mont, other faculty members and invited change-makers in the global cities landscape. 
 Working Agenda:
- Welcoming Remarks Prof. Uwe Brandes, Faculty Director, Georgetown Global Cities Initiative
- Student Presentation Panels and Dialogue
- Reflections from Visiting Fellow Gabriella Gomez-Mont 
- Networking Reception with Refreshments
Instructions for Students: 
Please confirm your attendance through the RSVP link above and you will receive additional instructions on how to apply to be included in the final agenda as either a presenter or respondent.  The final structure of the agenda will be based on student interest and inclusion in the presentation panels will be limited, so this will be a competitive process. 
We hope to see you at this exciting event!  Please reach out to us at globalcities [at] georgetown.edu if you have additional questions.