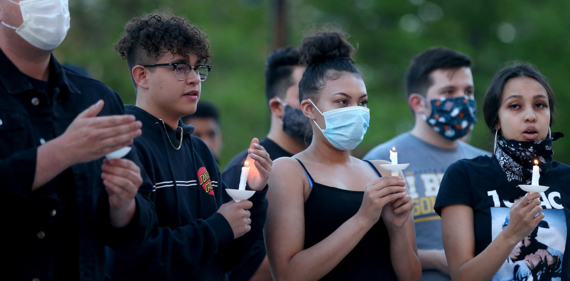 Racism in Our Streets and Structures
We need to embrace the whole idea of organizing, community organizing and coming together and identifying those issues that are affecting people in their own local communities.  The whole notion of presidential politics is one conversation, but the politics related to our school boards, our city council elections and our transportation authorities is just as important.  These are folks who are going to be making decisions impacting your life on a daily basis.  These local decisions can also be consistent with the idea of bringing forth issues that embody the gospel value of life, such as the decisions made by local police review boards which establish public safety at the local level.
- Ralph McCloud, director, Catholic Campaign for Human Development, four-term city council member and three-term mayor pro tempore, Ft. Worth, Texas
We have watched a police officer kneel on the neck of a black man on a street in Minneapolis, Minnesota, destroying a life and igniting protests across the United States. We have seen a young black man gunned down on a street in Glynn County, Georgia. We have seen a young woman shot by police officers in her own home in Louisville, Kentucky. We know the names of George Floyd and Ahmaud Arbery and Breonna Taylor. We also recall the names and images of too many other African-Americans who were killed in similar horrors, and we know that there are many, many more whose names will never be known.
A dialogue exploring the expression of structural racism hosted by the Initiative on Catholic Social Thought and Public Life on June 5th, 2020.  See the entire dialogue here.   For additional resources see here. 
Participating speakers included: 
Archbishop Wilton Gregory of Washington is the only African-American archbishop in the United States and is a past president of the United States Conference of Catholic Bishops.
Dr. Marcia Chatelain is a provost's distinguished associate professor of history and African-American studies and served as a member of the Working Group on Slavery, Memory, and Reconciliation at Georgetown University. She is author of South Side Girls: Growing Up in the Great Migration (2015) and organizer of the #FergusonSyllabus.
Ralph McCloud is the director of the Catholic Campaign for Human Development, the U.S. bishops' anti-poverty program. He has also served as the president of the National Association of Black Catholic Administrators and served four terms on the Fort Worth City Council and three terms as mayor pro tempore.
Gloria Purvis is a host of the EWTN radio show Morning Glory. She is also a board member for the Northwest Pregnancy Center, a member of the National Black Catholic Congress' Leadership Commission on Social Justice, and chairperson for Black Catholics United for Life.
John Carr, director of the Initiative, moderated the conversation.