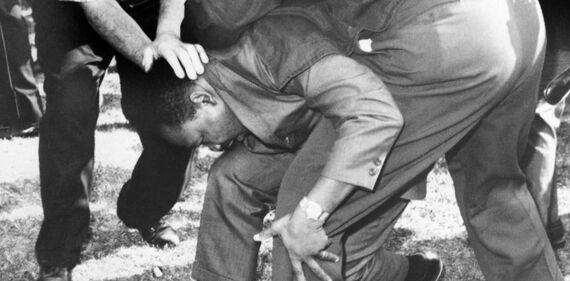 "inescapable network of mutuality"
Image: Dr. Martin Luther King being protected by colleagues after having been struck by a brick during his walk through Chicago's Montgomery Park on August 5, 1966.  Dr. King was walking through the neighborhoods of Chicago, protesting and bringing the world's attention to the racial discrimination practiced within Montgomery Park and through the housing practices in surrounding neighborhoods.  Source: Bettman/Getty Images.
"Through our scientific and technological genius, we have made of this world a neighborhood and yet we have not had the ethical commitment to make of it a brotherhood. But somehow, and in some way, we have got to do this. We must all learn to live together as brothers or we will all perish together as fools. We are tied together in the single garment of destiny, caught in an inescapable network of mutuality. And whatever affects one directly affects all indirectly. For some strange reason I can never be what I ought to be until you are what you ought to be. And you can never be what you ought to be until I am what I ought to be. This is the way God's universe is made; this is the way it is structured."
-   From a sermon delivered by Dr. Martin Luther King, Jr. in Washington, D.C. on  March 31, 1966 four months prior to the photo above. 
It has been a hard week.  But not just a week...but weeks, months...years, decades...centuries.  This week we have had earnest and emotional exchanges with students, faculty, staff, partners, stakeholders and friends seeking to better understand, interpret and participate in the public expression of outrage and protest following the murder of George Floyd and the many other legacies systemic racism in the United States.  The violence against protesters, the press and public servants is visible.  The destruction of property is real.  The invisible veil of the pandemic remains.  
We encourage you to take time for yourself to process what we as individuals, communities, cities and society are living through.  Take inspiration from Dr. King's words.  Find community in outrage.  We have much work to do in order to be what we "ought to be" in an "inescapable network of mutuality". 
The Georgetown Global Cities Initiative stands in solidarity with all members of the Georgetown community and all other persons around the world working to dismantle systemic racism and build just communities in our cities.