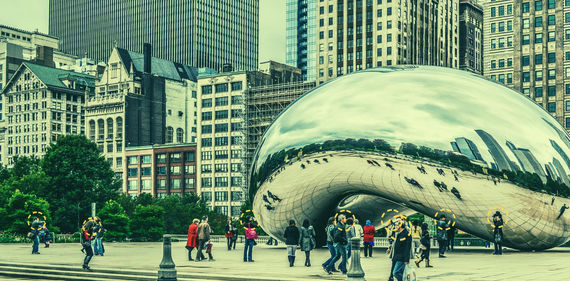 Facial Recognition in Today's City
Chrystie Swiney, Doctoral Research Fellow with contributions from Katie Evans, Director of Communications for the Center on Privacy and Technology.
As we enter a new era in human history, where the vast majority of humanity relocates to urban communities, we must remain vigilant of our cherished civil liberties and rights, including our personal privacy.  Indeed, personal privacy in urban communities is being radically reshaped as communities converge on geographically small spaces on such a massive and rapid scale. 
The Center on Privacy and Technology at Georgetown Law contends that personal privacy is and should remain a fundamental right, not a luxury.  While we might take this for granted today, this core American value is increasingly difficult to maintain as city officials and private-sector organizations attempt to find new ways to regulate the growing populations flowing into, and residing in, cities.
The deployment of information technologies, which collect personal data on residents, is a hot topic among urban planners, law enforcement officials, urban scholars, and members of civil society.  This trend, referred to by industry stakeholders as "smart cities," promises many benefits across the crowded city landscape -- reductions in congestion, enhanced public security, and new forms of urban mobility, among others. 
Recent Research at Georgetown Law, however, explores the risks and dangers associated with video surveillance technology in urban settings, which include invasions of privacy, the chilling of first amendment rights, and the incorporation of bias in police investigations. 
The Center on Privacy and Technology ("the Center") is a university-based research group focused on the laws and policies pertaining to privacy and surveillance, and the communities they affect. The Center conducts rigorous, in-depth research on how technology use impacts people's privacy, which is top of mind for many living, working and travelling in cities today.  It transforms its research into policy and legislative proposals, FOIA requests, pressure campaigns, and a variety of other tangible tools to ensure that it's work goes beyond the theoretical and impacts real people in real cities.   
In January 2016 researchers from the Center requested records pertaining to the NYPD's facial recognition technology as part of a year-long study called  The Perpetual Line-Up, which explores how U.S. law enforcement agencies are using (and potentially misusing) this type of technology.  After receiving public records from more than 90 agencies across the nation, their study found that while half of all American adults can now be identified using facial recognition technology, "few agencies have instituted meaningful protections to prevent the misuse of the technology."  
When the NYPD responded to the Center's request for documentation on their face recognition technology, stating that they were unable to find any relevant records, the Center called their bluff and sued, forcing the NYPD to release the information.  In what became a multi-year effort, the NYPD documents were finally turned over to the Center, only to then be taken back by court order after city officials declared that the documents had been turned over through an "inadvertent error." Despite this hurdle, the Center revealed through their efforts that anyone arrested by the NYPD is potentially subject to face recognition searches and that the technology they are using, like so many other law enforcement agencies around the nation, is imperfect, crude and prone to error.  The Center's investigative work on the NYPD's facial recognition program was featured in a front-page article in the New York Times in August 2019.  
The Center has also released ground-breaking reporting on the use of such technology in Chicago and Detroit, and warned that by "enabling the secret and mass identification of anyone enrolled in a police—or other government—database, [these cities] risk fundamentally changing the nature of our public spaces."
The Center is focused on highlighting ways in which race, class and power drive today's surveillance practices and the disparate impact that these practices have on historically marginalized communities.  This topic is particularly relevant in urban communities, where inequality is often extreme. The Center works to train and educate the next generation of privacy advocates, which they do by exposing Georgetown law students to the interdisciplinary array of individuals involved in surveillance, such as computer scientists, engineers and legislators.  These advocates-in-training develop a more nuanced view of how technology, law and society interact through their work.
With a dedicated staff of eight, led by Founding Director Alvaro Bedoya, the Center receives guidance from Georgetown law faculty members, including Angela Campbell, Anupam Chander, Julie Cohen, Laura Donahue, Paul Ohm, and David Vladeck.  Bedoya, who created the center in 2014, has published extensively on the topic of privacy, testified before Congress and state legislatures, and co-led, along with Senior Associate Clare Garvie, a year-long investigation that revealed most American adults are enrolled in a police face recognition network.  
Their work has focused on facial recognition technology, a hot topic among urban planners and city officials today, and the legal and ethical issues surrounding use of it by law enforcement.  They have published op-eds, testified before state legislatures around the nation, given presentations at city council meetings, participated in public panels, offered training to public defenders, published exposés, recorded podcasts, and written white papers to reveal abuses.
Recent work focuses also on protecting the privacy rights of immigrants given that "history teaches us that our treatment of immigrants is a bellwether for our treatment of everyone else."  The Center helped coordinate a campaign to stop DHS' use of information obtained from immigrant children to locate and deport their loved ones, which resulted in a federal law temporarily restricting most uses of children's information for deportation purposes.
The Center has seen its research translate to direct impact in cities across the country.  San Francisco became the first city in the country to impose a city-wide ban on the use of facial recognition surveillance technology in May 2019, a groundbreaking move that privacy advocates applaud, but others say might go too far.  
Clare Garvie, the Center's senior associate and co-author of "The Perpetual Line-Up: Unregulated Police Face Recognition in America," "America Under Watch: Face Surveillance in the United States" and "Garbage In, Garbage Out: Face Recognition on Flawed Data" was featured on NPR's OnPoint discussing this unprecedented development.  According to Garvie, we can expect to see "more aggressive deployments and more risky deployments of this technology that really pose more serious risks to our privacy and our civil liberties" in the years ahead. 
The Center on Privacy and Technology at Georgetown Law is an active, busy and passionate research hub engaged in impactful and tangible work to make cities a place where everyone's privacy is equally protected