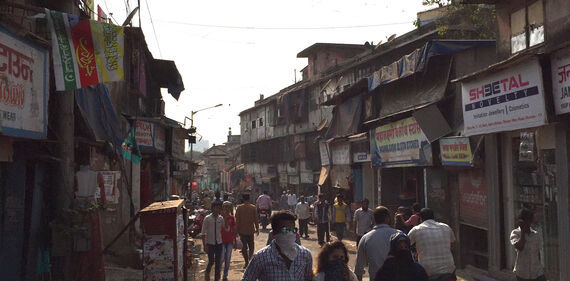 Asian Cities, Urban Settlers Collection Published in City & Society
What insights are produced by a unique collaboration among historians, anthropologists, urban planners and community advocates?  Georgetown's Asian Cities, Urban Settlers (ACUS) project advances new methods in ethnography and oral history to elucidate the formation of spontaneously occupied settlements across Asia's megacities.  After two years of continued engagement supported by the Georgetown Global Cities Initiative, five articles were published by members of the project  in City and Society v.32 no. 2 (August 2020).
The formation and evolution of informal communities are tracked in Tokyo, Saigon/Ho Chi Minh City, Yangon, Manila, Singapore, and Yogyakarta. Exploring the continuous process of settlement, the essays depart from the traditional descriptions of informal and marginal communities.  None of these cases fits into a simple story of migration to cities, bringing new perspectives to the concept of "the right to the city".  Special attention is paid to lore and language, often neglected amid quantitative urban analysis, as a key determinant in how the dynamics of urban exclusion are reinforced by linguistic decisions. 
"These papers came out of an ongoing interdisciplinary collaboration with scholars who know their cities intimately, from the ordinary resident's perspective, as well broadly, from the perspective of the academy. Policymakers call these communities squatters or illegal occupants, but we called them settlers.  These are vibrant communities full of people making their own place in the city and making their own meaningful contributions," commented ACUS project chair and Georgetown History and Asian Studies professor 
The articles in order of appearance in City and Society: 
Sand, Jordan. "Introduction: Asian Cities and Urban Settlers," pages 368–74.
Winardi, Uji Nugroho. "Gotong Royong and the Transformation of Kampung Ledok Code, Yogyakarta," pages 375–86. 
Loh, Kah Seng. "Ashen History: Narrating the Fire at the Origin of Modern Singapore," pages 387–94.
Harms, Erik. "Unsettling Stories of Eviction from the New Saigon," pages 395–407. 
Pante, Michael D. "Settlements and the Heritage Dilemma in Manila," pages 408–20. 
Roberts, Jayde Lin. "Displacement, Encroachment and Settlement: Interrogating Kyu in Peri-Urban Yangon," pages 421–35. 
Mayumi, Mori, and Jordan Sand. "Kasumigaoka Apartments: The People Evicted Twice for the Tokyo Olympics," pages 436–47.