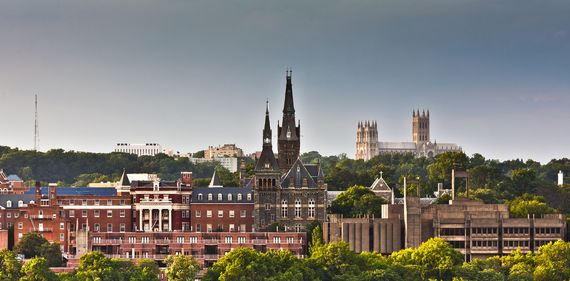 2022 STUDENT RESEARCH SUMMIT: CALL FOR PRESENTATIONS
On February, 25th 2022 the Georgetown Global Cities Initiative will convene its annual Student Research Summit where students from across all schools at Georgetown come together to celebrate urban and place-based research and build networks. 
All undergraduate and graduate students at all schools and all campuses are encouraged to submit a presentation proposal before January 17th at 11.59pm ET, using the online application form.  A review committee of students and faculty will select final presentations and provide assistance to student presenters in advance of the summit.  Faculty and special guests will be respondents at the summit. You can learn more about previous editions of  the Summit here. 
We are seeking research projects exploring interdisciplinary urban challenges. Students may submit work from previous semesters developed within a class or outside research activities you are advancing for an undergraduate or graduate thesis. Submissions may also consist of reflections on external engagements or service projects.  Students need not submit a fully-completed paper to be eligible to apply to present their project, however, we expect all research to be substantially complete.
We invite student submissions to post their presentations on any urban-related topic, including urban systems, urban economics, community-based public health, social equity and disparities, housing, urban governance, climate change and community resilience.  Of particular interest are cross-cutting themes related to global urbanization and place-based and community-based research. 
Students must apply using the application form on the Global Cities website. Applications will be reviewed by a specially formed committee of students and faculty and late submissions will not be accepted or reviewed. Submissions must include a preliminary slide deck consisting of up to 12 slides. The deadline for submissions is January 14th, 2022 at 11.59pm EST. 
In the application form you will be asked to provide the following information:
- Title 
- Abstract (200  word limit)
- Relevance of Research (200  word limit)
- Primary Research Findings (200  word limit)
- Preliminary Slide Deck (Up to 12 slides)
Following notification of acceptance, students will have one month to finalize their presentation and each student will receive individual feedback and coaching on their presentations from the committee. The final presentation will consist of: 
- 8-10 minute oral presentation organized as a part of a thematic panel; 
- A slide deck of no more than 12 slides with the first slide consisting of a title slide including:  project title, geographical location, student name, school/program, photo illustration of subject.
- Author-produced multimedia, geospatial analysis and other forms of data visualization  are strongly encouraged.  
The Summit timeline is as follows: 
1.    December 1st, 2021: Call for Presentations
2.    January 14th, 2022: Deadline for Submissions
3.    January, 28th, 2022: Applicants notified. 
4.   February 25th, 2022: Georgetown Global Cities Student Research Summit
Apply here. 
RSVP to attend the event here. 
Please direct all questions to globalcities [at] georgetown.edu