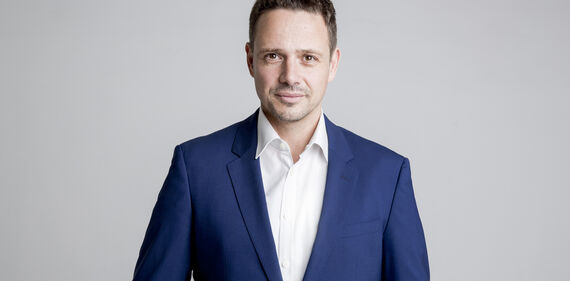 In Dialogue with Rafał Trzaskowski, Mayor of Warsaw
THIS IS A PAST EVENT - TO ACCESS A FULL RECORDING OF THE EVENT, PLEASE CLICK HERE
Please join us in dialogue with Rafał Trzaskowski, Mayor of Warsaw. 
Uwe S. Brandes, faculty director of the Georgetown Global Cities Initiative will welcome Mayor Trzaskowski, who will then share prepared remarks.  Jeffrey Anderson, Professor in the Edmund A. Walsh School of Foreign Service and Department of Government will moderate an interactive dialogue.
This event is being co-sponsored by: 
GMF Cities at the German Marshall Fund of the United States
The BMW Center for German and European Studies at the School of Foreign Service
The Institute for the Study of International Migration at the School of Foreign Service
The Insitute of Politics and Public Service at the McCourt School of Public Policy
The Georgetown Project on State and Local Government Policy and Law
This is an in-person event and open to the public.  All attendees must RSVP and all members of the general public must complete a Georgetown University health disclosure, see below for information. 
About Rafał Trzaskowski: 
Rafał Trzaskowski is the Mayor of Warsaw since 2018. He is a member of the European Committee of Regions and serves on the board of Eurocities.

In 2020 Rafał Trzaskowski was the Civic Platform's candidate for the Presidency of Poland.  A former Member of Parliament, Member of the European Parliament and Vice-Chair of the European People's Party, in 2014 he served as the Deputy Minister of Foreign Affairs of the Republic of Poland and in 2013 as a Minister for Administration and Digitalization in the Cabinet of PM Donald Tusk.

During his mayoral term, he introduced, among others, a free nursery program for Warsaw kids, increased funding under the Warsaw in vitro program and carried out record purchases of clean public transport vehicles.

Along with the mayors of the capitals of the other Visegrád Group countries, he signed the Pact of Free Cities in December 2019 to promote "common values of freedom, human dignity, democracy, equality, rule of law.

Rafał Trzaskowski was born in Warsaw, where he studied and graduated from the University of Warsaw with a focus in international relations and English philology. He is also a graduate of the College of Europe. In 2004 he obtained his PhD degree in political science.  He speaks fluent English, French, Spanish, Russian and Italian.
Health Disclosure For Members of the General Public: 
Georgetown University looks forward to your upcoming visit. As of October 25, 2021, we are requiring all visitors to Georgetown University-owned or operated buildings in the Washington, DC, region to be fully vaccinated against COVID-19, or to attest to having a medical or religious exemption from being vaccinated.
Please follow the steps below that are required before your visit.
Step #1: Anytime between now and the day before your visit, please submit documentation showing you have been vaccinated against COVID-19 with a vaccine authorized for emergency use or granted approval by the U.S. Food and Drug Administration (FDA) or the World Health Organization (WHO). Acceptable proof of vaccination includes, but is not limited to:
CDC COVID-19 Vaccine Card
WHO Vaccine Booklet
Documentation provided by a healthcare organization or country
Note: For those individuals who are not fully vaccinated but attest to having an appropriate medical or religious reason for not being vaccinated, you will be able to indicate this as part of Step #1 and proceed with the process required to visit our campus. You will be required to upload to the University proof of a negative PCR test taken within the last 72 hours when you submit your health attestation on the day of the event.
Step #2: Assuming successful completion of Step 1, you will receive a short health attestation form via email the morning of your visit to our campus. Please complete this form, attesting that you are symptom free at the beginning of the day you will be on campus. If you indicate any symptoms consistent with COVID-19, you will not be permitted to visit a Georgetown-owned or managed campus or building until you are symptom free.
Your event or meeting host will be able to monitor your progress on Step #1 above, and they may contact you if they see if you have not yet completed this step ahead of your scheduled time on campus. While event hosts are not provided information about your COVID-19 vaccination or your religious or medical exemption from vaccination, they are notified of the outcome of any COVID-19 test required by the University in connection with a claimed exemption and whether you have reported having COVID-19 symptoms or being in close contact with anyone who has tested positive.