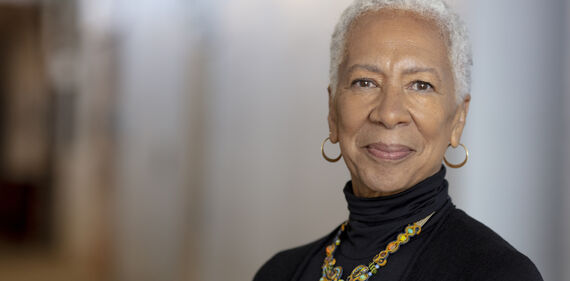 In Dialogue with Angela Glover Blackwell: Exploring Narrative in the Context of Community-based Change
THIS IS A PAST EVENT - TO VIEW A FULL RECORDING CLICK HERE.
This dialogue explores the role and value of narrative in the context of community-based change.  Visiting Fellow Angela Glover Blackwell will reflect on her work creating and leading PolicyLink, a national research and action institute advancing racial and economic equity by "Lifting Up What Works".  PolicyLink advances policies that enable everyone to participate in an equitable economy, live and a community of opportunity, and thrive in a just society.  Members of the faculty will respond to her reflections.
This program is co-sponsored by the Georgetown Humanities Initiative. 
Speakers:
Founder in Residence
Policy Link
Visiting Fellow, Georgetown Global Cities Initiative
Sherry Linkon, Ph.D.
Professor of English 
Faculty Director of Writing Curriculum Initiatives
Jordan Sand, Ph.D.
Professor of Japanese History
Principal Investigator, Asian Cities Urban Settlers Project
Moderated by:
Professor of the Practice
Faculty Director, Georgetown Global Cities Initiative
Faculty Director, Urban & Regional Planning Program
Nicoletta Pireddu, Ph.D.
Professor, Department of Italian; Comparative Literature Program
Inaugural Director, Georgetown Humanities Initiative
Chair, American Comparative Literature Association Program Committee