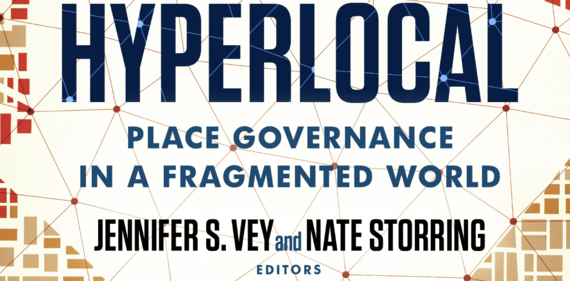 Hyperlocal: Place Governance in a Fragmented World
When:

October 6th 2022 | 4:00 pm - 5:30 pm

RSVP:

RSVP
THIS IS A PAST EVENT.  LISTEN TO THE EVENT RECORDING HERE.
Please join the Georgetown Global Cities Initiative for a discussion on the Brookings Institution's recently released book: 
Hyperlocal: Place Governance in a Fragmented World  (Brookings, 2022)
About the Speakers: 
Jennifer S. Vey, author and co-editor of Hyperlocal, is a senior fellow with the Brookings Institution Metropolitan Policy Program and the director of the Anne T. and Robert M. Bass Center for Transformative Placemaking. Vey's work primarily focuses on how place-based policies and practices can support the development of more vibrant, connected, and inclusive communities.
Nate Storring, author and co-editor of Hyperlocal, is the Deputy Executive Director of Project for Public Spaces. Storring's writing and projects explore participatory approaches to urban planning, policy, design, and stewardship. In 2016, he co-edited Vital Little Plans: The Short Works of Jane Jacobs with urban historian Samuel Zipp.
Sheila Foster, contributing author to Hyperlocal, is a Professor of Law and Public Policy with a joint appointment at the Georgetown Law Center and the McCourt School of Public Policy.  Professor Foster writes in the areas of environmental law and justice, urban land use law and policy, and state and local government.
Michael Stevens, visiting faculty in the Georgetown Urban & Regional Planning program and is president of the Capitol Riverfront Business Improvement District (BID), the largest and most rapidly developing mixed-use, mixed-income and transit-oriented urban neighborhood in Washington, DC.  Stevens is a highly accomplished urban planning professional who has practiced economic development for the majority of his 37-year career.
Moderated by Uwe S. Brandes, Faculty Director, Georgetown Global Cities Initiative.
From the publication: 
While some of America's downtowns, waterfronts, and other asset-rich neighborhoods have experienced significant revitalization and reinvestment in recent years, concentrated poverty and racial segregation remain persistent across thousands of urban, suburban, and rural places. The coronavirus pandemic magnified this sustained and growing landscape of inequality.
The country's uneven patterns of economic growth and investment require a shift in how communities are governed and managed, with the goal of helping more people and places prosper.
The good news is that tens of thousands of place-based ("hyperlocal") governance structures in the United States and around the globe are working toward these ends. They range from grassroots community organizations to business improvement districts. However, very little systematic research has documented the role and evolution of these organizations as part of one interrelated field. Hyperlocal helps fill that gap by describing the challenges and opportunities of "place governance."
Hyperlocal explores the tensions associated with governing places in an increasingly fragmented—and inequitable—economic landscape. The book also highlights innovative financing, organizing, and ownership models for creating and sustaining more effective place governance structures. 
The authors hope to provoke new thinking among place governance practitioners, policymakers, private sector leaders, urban planners, scholars, students, and philanthropists about how, why, and for whom place governance matters. The book also provides guidance on how to improve place governance practice to benefit more people and places.
SPECIAL NOTICE FOR ALL VISITORS OUTSIDE OF THE GEORGETOWN COMMUNITY:
Georgetown University looks forward to your upcoming visit. To help protect the health and safety of the Georgetown community, including our guests, all visitors ages 12 and older to University-owned or operated buildings must be up to date on COVID-19 vaccination (i.e., primary series and, when eligible, an additional dose), or attest to having a medical or religious exemption from being vaccinated.
Please follow the steps below that are required before your visit.
Step #1: Anytime between now and the day before your visit, please submit documentation showing you are up to date on COVID-19 vaccination with a vaccine authorized for emergency use or granted approval by theU.S. Food and Drug Administration (FDA) or the World Health Organization (WHO). Acceptable proof of vaccination includes, but is not limited to:
CDC COVID-19 Vaccine Card
WHO Vaccine Booklet
Documentation provided by a healthcare organization or country
Note: If you are not up to date on COVID-19 vaccination but attest to having an appropriate medical or religious reason for not being vaccinated, you will be able to indicate this as part of Step #1 and proceed with the process required to visit our campus. You will be required to submit to the University proof of a negative PCR test taken within 48 hours prior to your arrival time on our campus when you submit your health attestation on the day of the event.
Step #2: Assuming successful completion of Step 1, you will receive a short health attestation form via email on the morning of the event date (for multiday events, you will receive this email on the FIRST DAY of the event ONLY, regardless which day you are attending). Please complete this form, attesting that you are symptom free before coming to campus. If you indicate any symptoms consistent with COVID-19, you will not be permitted to visit a Georgetown-owned or managed campus or building until you are symptom free.
Your event or meeting host will be able to monitor your progress on Step #1 above, and they may contact you if they see if you have not yet completed this step ahead of your scheduled time on campus. While event hosts are not provided information about your COVID-19 vaccination or your religious or medical exemption from vaccination, they are notified of the outcome of any COVID-19 test required by the University in connection with a claimed exemption and whether you have reported having COVID-19 symptoms or being in close contact with anyone who has tested positive.