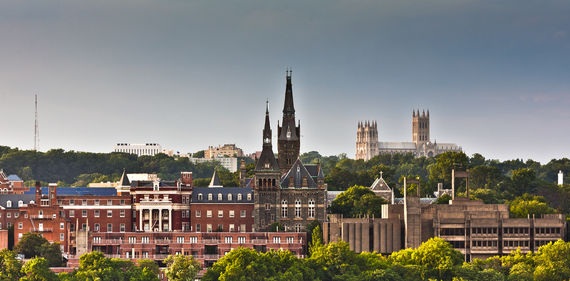 Global Cities Student Research Summit
On March 5, 2020 the Georgetown Global Cities Initiative will convene its third annual Student Research Summit where students from across University come together to celebrate urban and place-based research and build interdisciplinary networks.  
All undergraduate and graduate students at all schools and all campuses are encouraged to submit a presentation proposal before January 11th, 2021.  The call for presentations is now open and can be accessed here.  
Presentation proposals may draw on any student inquiry initiated in courses, engagements, thesis projects or dissertations at Georgetown. A selection committee of faculty and students will select final presentations and provide coordination assistance to student presenters in advance of the summit.  We are delighted to confirm that the lead respondent to presentations will be GGCI visiting fellow Angela Glover Blackwell.  You can learn more about Ms. Blackwell here.
A complete agenda will be posted to this site in advance of the event.  Previous Student Research Summits have celebrated the multi-disciplinary and extraordinarily diverse nature of student interest in urban research.  Student presenters have represented the Law Center, the McCourt School, the School of Continuing Studies, the McDonough School, the Graduate School, and the School of Foreign Service.